Gastronomy


ENJOY THE BEST CUISINE IN ALMERÍA
During the autumn and winter season, the Hotel Bahia Serena will offer lunch and dinner in a buffet or restaurant, depending on the number of guests staying at the hotel. Breakfast always in buffet. The change will be that the restaurant will serve menu consisting of 3 starters, 3 main dishes and 3 desserts, to choose from. We hope you will like it. We are trying to provide you with the best service and attention at all times.
Alboran Buffet
The Aparthotel Bahía Serena has a large buffet restaurant, where you will enjoy all the culinary variety of international and national cuisine.

Varied desserts, highlighting pastries and ice cream. Creperie with a wide assortment of syrups and accessories. Meats, vegetables and fish at ¨Show cooking¨. Enjoy...
La Chalupa Restaurant
Cozy sailor-style dining room, where you can take a tour of local gastronomy, rich in flavors from the sea and the land.

Its extensive menu also includes elaborations of international and national cuisine, which you can emphasize with an exquisite winery that brings together a selection of the best wines.

It is also ideal for the chat with your friends while tasting our best selection of tapas. It offers ¨Day Specials¨ as well.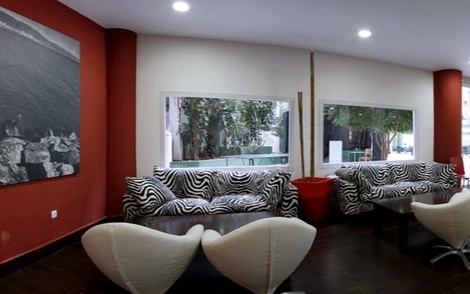 Galatea Cafeteria
The Coffee Bar Galatea is the ideal place to meet after lunch for coffee, some digestive drink or your favorite vermouth, in a calm and pleasant atmosphere.

Daytime terrace in the central courtyard of the hotel and nighttime terrace in the entertainment area.
Fishbowl
Terrace restaurant with the best views of the sea that you can enjoy. Daily suggestions of the succulent dishes prepared by our chefs.
You can request information from us for your events, celebrations, etc. to the email address:
jgf@bahiaserena.es
Mediterranean room
Its capacity for 350 people, its light and its gastronomy make it the perfect place for your events. 30 years of experience in weddings, baptisms, communions, company events, concerts, DJ. Noon and night without time limits. Air-conditioned and soundproofed room. Ask us for a room quote for guest stays. Hotel with 250 rooms. Ask for more information at tel. 950334950.